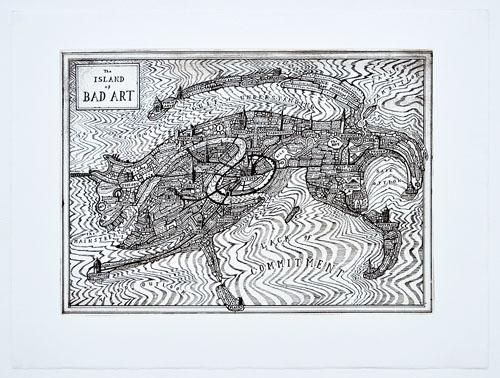 THE ISLAND OF BAD ART [AND OTHER NEW DISCOVERIES]
Prints and multiples from the Royal Academy Schools
An exhibition of original prints and sculptural multiples created at the Royal Academy Schools that simultaneously celebrates the Royal Academys's contemporary impact and its 250th year anniversary as hosts of the UK's longest surviving Art School. It features works by current students, staff and recent graduates alongside some of its leading Royal Academicians including Turner prize winner Grayson Perry, Rebecca Salter, Paul Huxley, Cathie Pilkington, George Baselitz , Bob and Roberta Smith and previous Royal Academician Turner prize nominees Tracey Emin, Richard Wilson, Gary Hume and Alison Wilding. These artists will be in visual conversation with new works from recent graduates including, Prem Sahib, Hannah Perry, Pio Abad, Elliot Dodd, Peter Donandson and Suzy Moxhay.
The exhibition demonstrates the incredible breadth of artistic attitudes and approaches currently embraced by the UK's leading postgraduate Fine Art School and highlights its uniquely multi generational commitment to the potentials of contemporary printmaking and sculptural editions. A diversity of artworks ranging from hand drawn etchings to multi-coloured 3D digitally printed sculptures will be on show.
The Royal Academy schools, now celebrating its 250th year anniversary of providing FREE art education to generations of artists held a particular place of affection for JMW Turner who entered the Schools as a 14 year-old student in 1789 and frequently taught there during his long association with the RA. For thirty years he held the position of Professor of Perspective between 1807 -1837. In this period he found much inspiration in his travels to Margate.
All works are for sale. Profits from sales support the RA Schools student bursary fund.
Dates and times
Please come and join us for the opening weekend with a private view launch party on Friday 27th September between 6-9pm.
Show open - 27th September - 20th October
Gallery open - Thursday – Sunday 11.00 - 6.00
Or by appointment