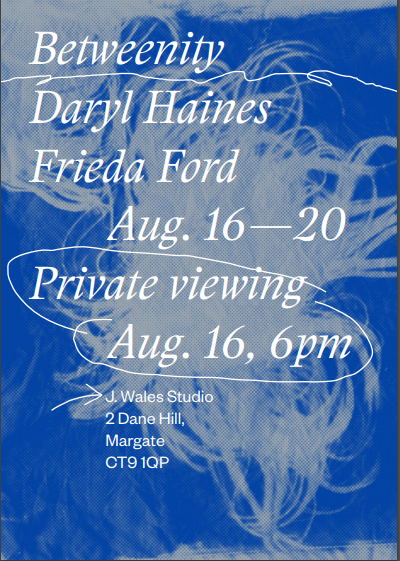 Betweenity: the state of lying between two extremes.
Daryl Haines explores the realm in which objects lie when placed in the extreme environment of the art world. He questions the role of the plinth as an object that often goes unnoticed, treated as just an extension of the 'white cube' gallery space. How do we consider a plinth when it stands alone? Does it seamlessly fall into the background? Can we consider it an object of beauty in its own right? The plinth is the object between Art and liminal space. Both physically in a gallery setting and conceptually in the way we perceive it, the plinth falls into the realm of marginality. Daryl also uses ceramics to explore the spectrum between form an function. Where various objects lie on this spectrum and how this affects the way we perceive them. The traditional craft methods of throwing and hand building he uses also invites us to examine the betweenity of Craft and Fine Art an the subsequent value we might place on these two extremes.
Frieda Ford looks at liminality through a feminist lens, taking beauty objects and combining them with disparate forms that dismantle the original context of the object. In doing so she removes the patriarchal control over the connotations of these objects and opens up a new in between space with a freedom of subjectivity. A beauty object is both an expression of individual identity and a response to the world around us. While from one angle she questions the separation of art and performative beauty Frieda is exploring the line between being the wearer of the beauty object and the beauty object being a wearer of you, a mask of individual identity. She is particularly interested in the beauty objects that attempt bodily mimesis: fake nails, wigs, tights. They act as a second skin, a mask of the individual but also in themselves a liminal space between the natural woman and the presented woman. Both extreme different vantage points coalesce in this multimedia exhibition to open up a space of questioning between mediums and prejudices, practise and theory.
Events
Learning Through Clay
Aug. 17th 11am- 1pm
Aug. 18th 2.30pm- 4.30pm
Join Daryl Haines for a workshop exploring the properties of raw clay and the process of collecting it, through physical interaction and discussion. Questions and thoughts welcome. Booking preferable but not essential.
Feminist Embroidery Workshop
Aug. 17th 2.30pm- 4.30pm
Aug.18th llam-1pm
Learn up-cycling embroidery skills alongside feminist discussion with Frieda Ford. Any viewpoint welcome but respectful atmosphere is required. Booking preferable but not essential.
Open Group critique
Aug. 19th 6pm- 8pm
Bring your artwork to the space- whether finished or in progress- for a group critique with the exhibitors and other local artist to help progress your practice. If you do not have anything to show but just want to be part of the discussion you are also welcome. Contact us if you need equipment for installation and we will try to help. Booking essential.
*All workshops are donation based. Contact frieda.ford@hotmail.co.uk or darylhaines@btinternet.com with any questions or to confirm attendance.